Netherlands Access Developers Day 2019 (NADD) – A field report
by Philipp Stiefel, originally published October 9th, 2019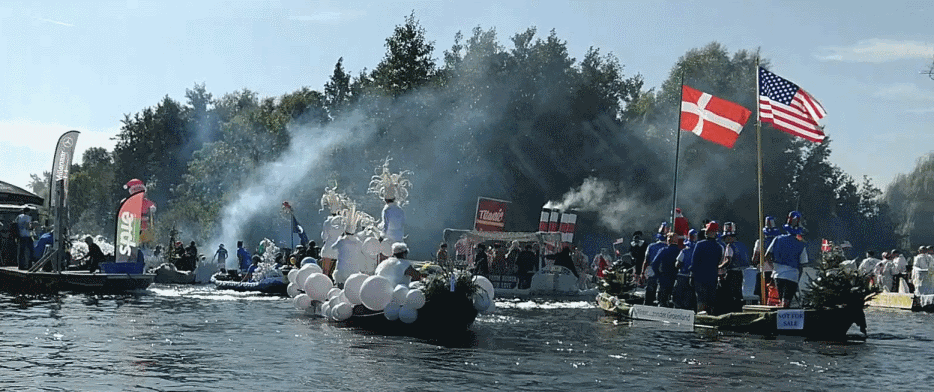 Photo by Philipp Stiefel, 2019. All rights reserved.
Organizer Daniel Polak was so kind to invite me as a speaker to the Netherlands Access Developers Day 2019 (Short: NADD) on September 14th 2019. - Amsterdam is a lovely city and you don't often get the opportunity to speak at a conference with the most renowned speakers of the Microsoft Access community. So, of course I agreed.
On that Saturday, I arrived early at the conference venue. A rather remarkable place for an Access developers conference. The location, The Beach, is some sort of beach club offering, amongst other things, several playing fields for beach volleyball.
I was even more astonished, when I first saw the actual conference room. An auditorium-style old auction room for flowers. - Did you know, one of the very first bursting stock bubbles was about tulip bulbs in the Netherlands?
The first speaker war Armen Stein, presenting tips and tricks for Access development. While there was nothing technically surprising in his presentation, there were a lot of very valuable ideas on how to use basic functionality of Access in the most efficient way. And, beyond the technical content, it is always very enjoyable to see Armen present a topic in his very calm and yet compelling style.
Next was my presentation about automatic testing in Access. Despite some technical difficulties with the projector connection while setting up my gear, I managed to focus well once I started my presentation. I stayed on time and still covered the important aspects of basic unit testing and integration testing with Microsoft Access and VBA. Despite some distractions by loud music playing outside the conference room, it actually went much better than I dared to expect from my rehearsals and I'm very happy with the presentation I delivered.
An early long break in the conference schedule followed. This break was used for another unusual event; a boat trip combined with lunch. That very day in Aalsmeer was some sort of carnival parade with people in fancy costumes and loud music. – Not my cup of tea! – However, this parade wasn't done with trucks and trailers, as I know them, but rather with boats on the channels traversing the area. While I'm not going to be a fan of this either, it was interesting to see this sort of thing once. On the negative side, the loud music severely impeded any conversation with the other conference attendees.
After the lunch break and boat tour, it was Luke Chung's part to take the podium and deliver a talk about Microsoft Access's journey from the desktop to the cloud. As usual, Luke did a sovereign and very entertaining presentation, despite, once again, quite a bit of distraction by music from outside the conference room.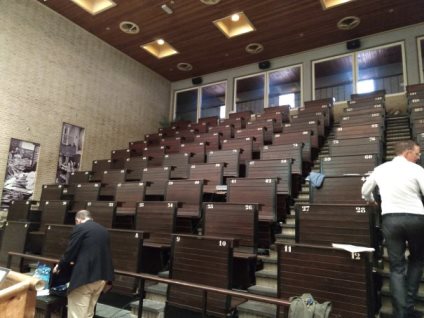 Next one to take the podium was Anders Ebro with a presentation about SQL Server security for Access developers. Ander's always surprises me with his presentations. He appears so reserved and rather shy when beginning, but always manages to capture the audience, including me, with a very well structured, interesting and presentation that lives from the content and its clear deliverance rather from superficial show elements.
Ynte Jan Kuindersma is stark contrast on presentation style to Anders. He is very lively on stage and conveys his excitement by his body language and movement. Nevertheless, the delivery of the content is spot on and he showed us a lot of interesting samples of how to integrate cloud services into Microsoft Access.
Next to take the podium was Tom van Stiphout, talking about building task-oriented user interfaces in Microsoft Access. A very important and interesting topic presented very well with real world examples. I personally would have liked an overview over more different task-based UIs rather than the more in-depth presentation of a few. – But this is certainly personal preference and it not meant as general critique to the presentation.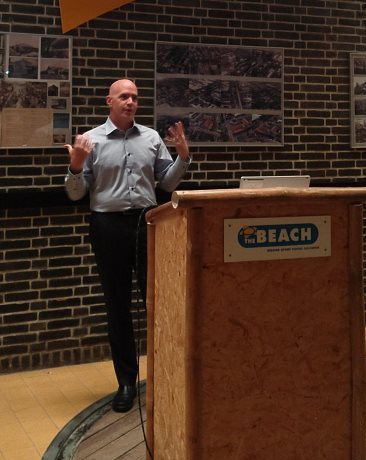 Finally, Jim Masson was taking the stage. As Microsoft program manager in the office team he revealed a lot of interesting insights into Microsoft's priorities regarding Microsoft Access. While presentations by the Microsoft employees often fall a little bit short of revealing interesting new information, not yet know publicly, they nevertheless give the attentive listeners a good opportunity to read between the lines and interpolate a couple of things not explicitly said. Even though the planned Microsoft Teams conference with members of the Access developer team failed due to technical difficulties with the network and audio connections, this presentation was a very worthy conclusion to the very informative formal part of this event.

Subsequently to the conference, there was informal get together with all the attendees and speakers of the conference for a couple of drinks and later for dinner. Unfortunately, the dinner location next door was severely plagued by the revelers from the carnival parade and their (very) loud music. This made conversation once again quite difficult. This was mainly the restaurants fault, who promised the organizer that expected loud music from the outside would not affect the tables inside. – Failed.

All in all, despite distractions from the environment, I really enjoyed this conference and met a lot of interesting people from the Access community, had many friendly and interesting conversations at the NADD conference. Thanks a lot, to Daniel for organizing the event and to all the speakers and attendees for being there and making the event the enjoyable experience it was.

I will never share your email with anyone. You can unsubscribe any time.
This email list is hosted at Mailchimp in the United States. See our privacy policy for further details.



© 1999 - 2023 by Philipp Stiefel - Privacy Policiy