Microsoft Access community conferences around the world
by Philipp Stiefel, originally published July 14 2019, last updated October 31 2019
There are lots of online communities dedicated to Microsoft Access. They are great platforms to meet other Access developers and users online and valuable resources to discuss technical issues and find help to solve problems you encounter in your work with Access. – But they are just virtual communities and thus cannot compete with the real world in the field of social interaction.
So, if you want to meet likeminded developers in the real world to exchange thoughts and discuss working with Access with them, the best option is attending an Access conference. These conferences also have tremendous value to learn about new techniques and further your developer skills.
I really like these real-world events and want to support their organizers as well as help you finding such events. So, I compiled the following list of Access conferences and user group events organized on a regular basis with a strong technical agenda.
AEK – Access Entwickler Konferenz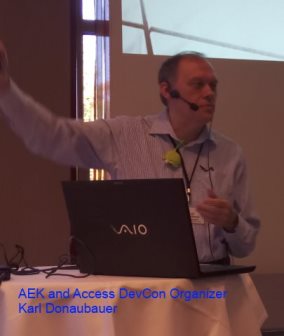 This is the biggest Microsoft Access conference in the world. The conference usually takes place as two different events on two weekends (Saturday and Sunday) in October in the German cities of Nürnberg and Hannover. Each event features the same speakers and topics and is attended by roughly 100 developers, mostly from German-speaking countries.
The conference talks are in German, so you will have to be reasonably familiar with the language to get something out of the presentations. The atmosphere at the conference is very friendly, informal and inclusive.
I enjoyed the conference several times as attendee as well as a speaker and was speaking there again in October 2019. I wrote several "field reports" from the AEK conferences over the years. The most recent one about AEK20 in 2017 (in German).
The conference is organized by Access MVP Karl Donaubauer and you'll find up to date information on it on his AEK conference webpage (in German).
Access DevCon
Another conference organized by Karl Donaubauer, usually happening in April in Vienna, Austria. Other than the AEK, this conference is held entirely in English and attracts well known Access developers from all over the world. It is somewhat smaller than the German events with about 60 attendees in the last two years.
The atmosphere is also very friendly and informal, and the conference optionally includes a highly recommended guided tour through Vienna.
If you attend the conference you absolutely must book the lounge evening with more informal talks and socializing. The food at the evening event is so excellent, it is worth its price on its own.
I wrote a text about my personal perception of this conference when I attended AccessDevCon 2017.
The schedule date for Access DevCon is April 25+26, 2020. You'll find more information about the conference on the Access Dev Con website.
NADD - Netherlands Access Developer Day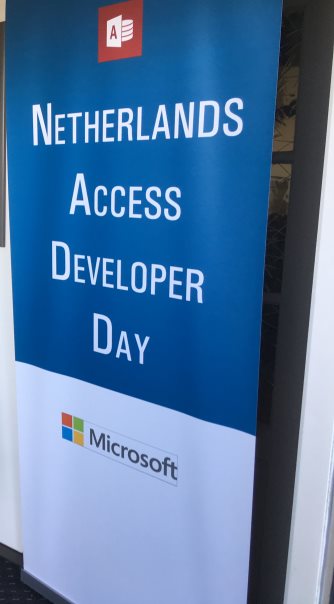 A rather young Access conference is the Netherlands Access Developer day, which was brought to life by Daniel Polak and his company SYS in 2018 and had about 30 attendees. This is another conference with all presentations in English by a lineup of international presenters.
The most recent NADD took place at September 14th, 2019 in Aalsmeer, near Amsterdam, Netherlands. I really enjoyed being there and speaking about automatic testing in Access/VBA. There is more information on that event in my field report from NADD2019.
For more information visit the Access Developer Day website.
Access Day
Access MVP Armen Stein and his company J.Street Technology are organizing a one day conference with international acclaimed Access experts from time to time. This conference has no fixed location and no fixed recurrence. The next event will be in March 2020 on the Microsoft campus in Redmond, WA.
For more and updated information, you should visit the Access Day webpage.
AUGE - Conferencias Desarrolladores Access
If you live in Spain and/or are fluent in Spanish, you might be interested in the Conferencias Desarrolladores Access which is organized in Madrid, Spain by the Access User Group España. All conference content is in Spanish, which unfortunately means that I have a hard time understanding it. So, if your Spanish is better than mine, you can visit the conference website to get the most recent information.
PAUG 2019 Database Designer International Conference
The Portland Access User Group (PAUG) hosts an annual 3-day conference at the Silver Falls conference center near Portland, Oregon. I did not attend this conference yet, so I rely on secondhand information here.
The conference venue is a slightly remote assembly of log cabins. Due to limited accommodation it is highly recommended to book early to get one of the rooms on the site. You will usually share a cabin with other attendees of the conference.
Despite this conference being rather small, you can expect some well-known Access experts from all over the United States (and beyond) to be there and present interesting topics.
This conference will be held in September 2019 the next time. Visit the PAUG conference website for further information.
UK-AUG – National Seminar
The UK Access User Group organizes a semi-annual event near London, UK with 30-40 attendees, which is also open for non-members of the user group. Usually speakers there are members of the user group but from time to time they feature an international expert there.
Further information on the next planned event is available on the UK-AUG website.
Local Events in Germany
In Germany there are also many local Access community events – "Stammtische" in German – many of which focus more on meeting like-minded people locally but usually do not have a technical agenda. Martin Asal, organizer of the Rhein/Main-Stammtisch maintains a list of the Access-Stammtische in Germany (German).
Other events? – Let me know!
If you organize an Access event and want it to be listed here, just send me an email with details on the event and I´ll probably support your event by adding it to this list.

I will never share your email with anyone. You can unsubscribe any time.
This email list is hosted at Mailchimp in the United States. See our privacy policy for further details.



© 1999 - 2023 by Philipp Stiefel - Privacy Policiy