Access DevCon - Access Developer Conference - April 2017, Vienna
by Philipp Stiefel, originally published March 30th, 2017
This text is somewhat of an experiment. It is the first article I publish deliberately in a state of flow and total incompleteness. When you read this, the Access DevCon conference is either still going on or just finished. - Or maybe, it hasn't even started yet.
On the first weekend of April 2017 the very first Access DevCon international Access Developers conference takes place in Vienna, Austria. This page will contain more and more of my personal impressions from the conference over the next days and probably some related information.
If you want to be notified when this page is tidy, neat and completed, then I suggest you subscribe to my newsletter below. If you want to get more immediate updates, while stuff is still in flow, you might get those if you follow me on twitter: @philivc.
Preparation / Packing for Vienna
I usually travel light. Very light. A medium sized backpack is usually enough to contain the stuff I need for an extended weekend or maybe even a whole week. That being said, this picture might come as a bit of a surprise.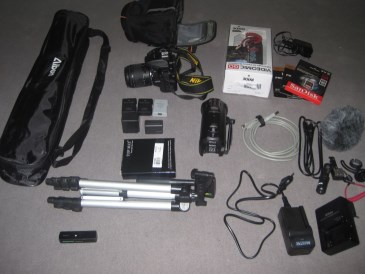 Although I was mentally prepared for it, it still comes as a bit of a shock to me. - And, obviously, personal stuff like clothes and toiletries are extra.

So I haul quite a bit of stuff to Vienna. The obvious question is: "Why?" - Of course I've got some things planned. I do not reveal any more details yet, because lots of unknown variables are involved and I do not know if everything will work out even remotely as planned.

Excuse me for now. I gotta get that stuff packed ....



© 1999 - 2016 by Philipp Stiefel